MEGA-ER 6X6
A one-of-a-kind Mercedes-Benz U2450 6x6.
Here at UNIDAN we build some fun projects... it just so happens this little side project wasn't so little and was actually the biggest Unimog we have ever built.
This Mercedes-Benz 6x6 Unimog (1 of only 200 ever produced) has everything you could dream of. More wheels, more horsepower, more payload! Then kitted from top to bottom in nothing but the highest quality accessories and utilities all designed and fabricated by our team!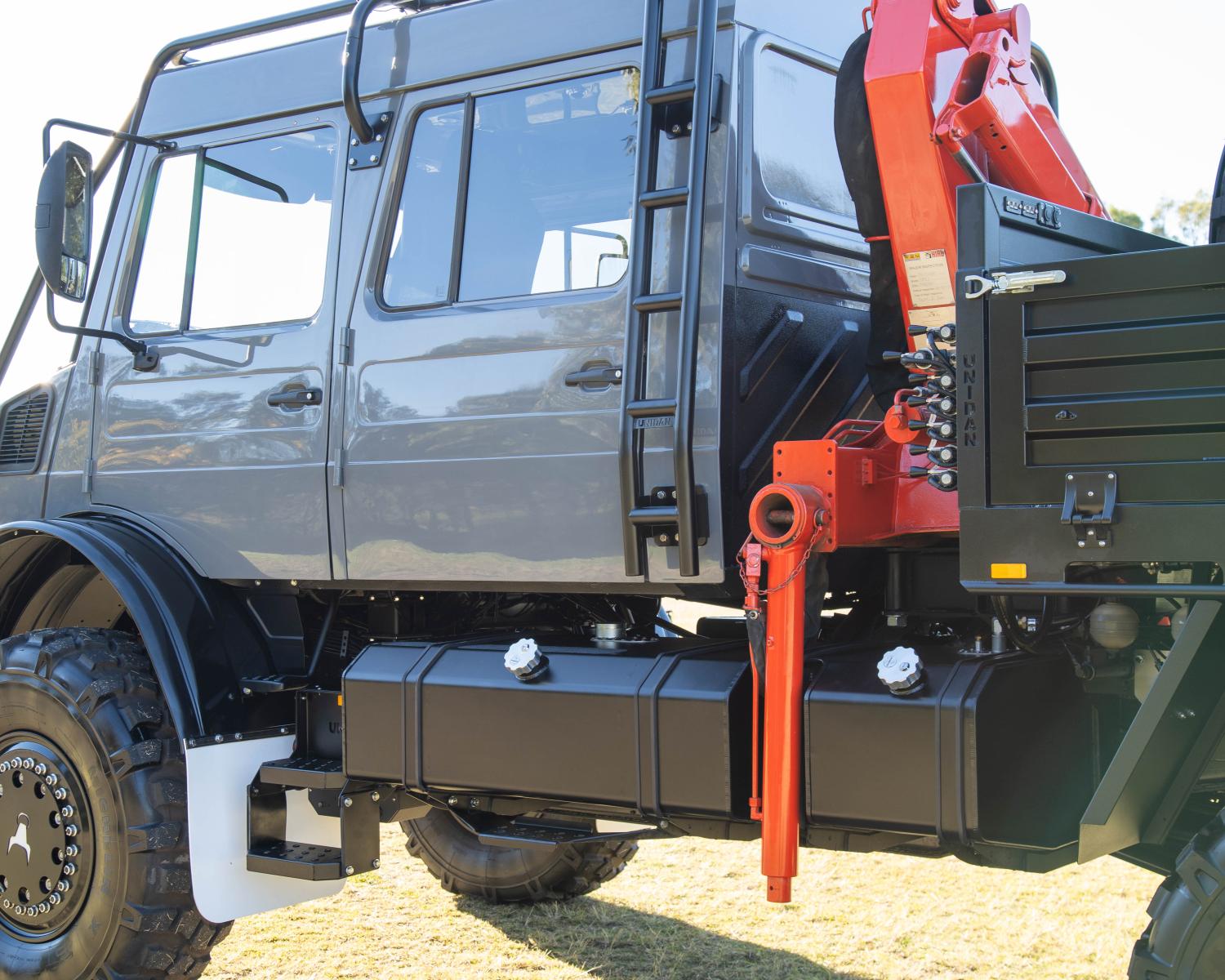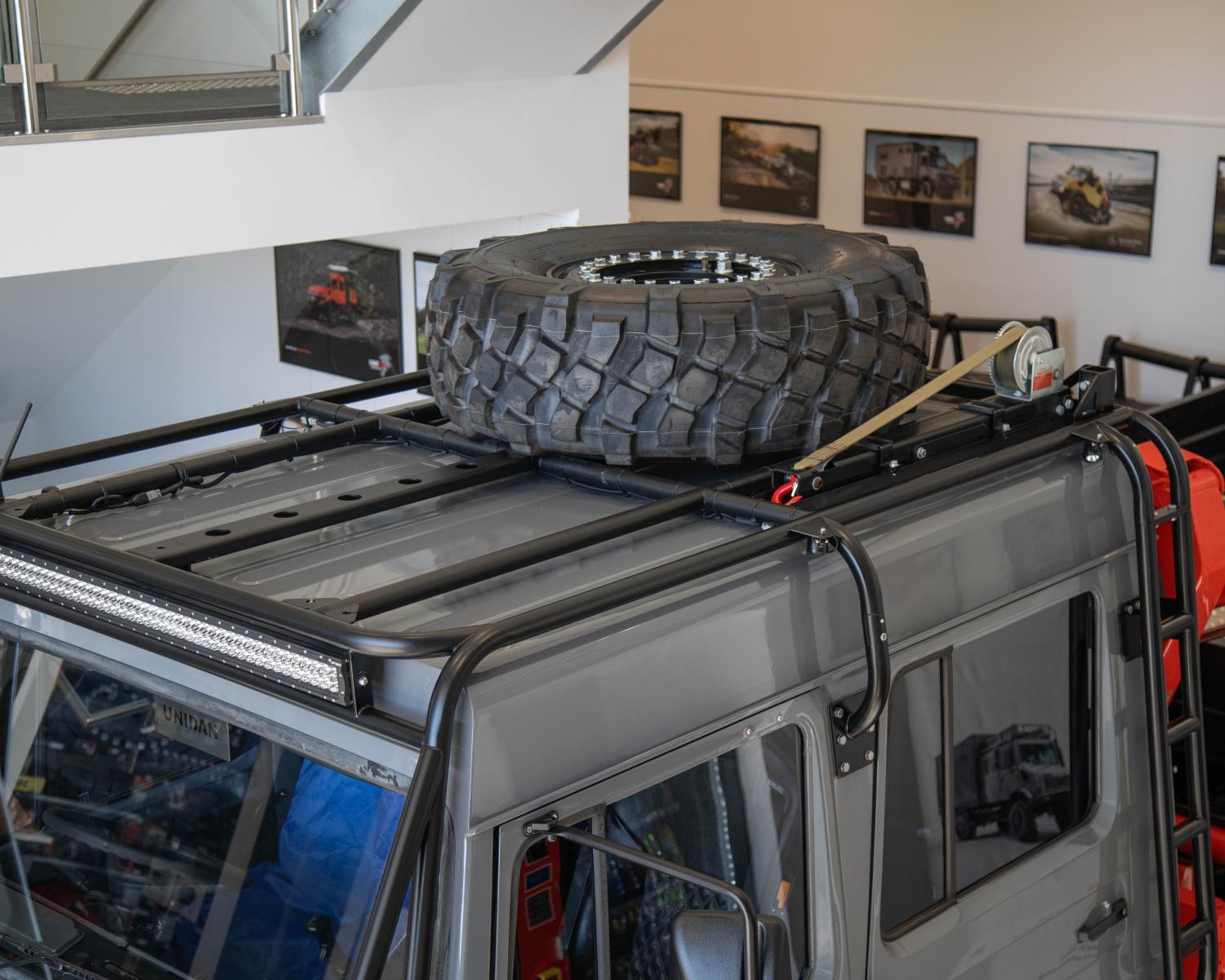 COMPLETE RESTORATION & THE UNIDAN TREATMENT
This U2450 Unimog started out as a Medium Recovery Vehicle (MRV) in the Australian military. The factory fitted spec list has all the boxes ticked on these Unimogs with pretty much every Mog addition you could think of.
Once we got our hands on it, we completed a bare metal restoration and dual cab 09wconversion on the cab, chassis restoration, added every accessory that we could throw at it and a few horsepower upgrades for good measure. We made sure to keep some original heritage by recommissioning the original crane system that came on the MRV but modernised it with new controls and a Bluetooth remote.



MODIFICATIONS & ACCESSORIES
FACTORY SPECIFICATIONS
U2450 6x6 Unimog
6 Wheel Diff-Locks
High Speed Crown Wheel and Pinion
Claas Overdrive
Working Group
Central Tyre Inflation
PTO
CAB ACCESSORIES
Scrub Bars and Roof Rack with Spare Wheel Carrier
Manual Spare Wheel Crane
Front ISRI Air Ride Seats

Leather-look trimming with Double Diamond stitching

Rear bench seat with under seat storage

Leather-look trimming with Double Diamond stitching

Double Diamond Door Card trimming

Door Pockets with Cup Holders
Additional Unidan Low Mount Air Conditioning
High-end speakers and sub-woofer
RESTORATION
Bare metal cab restoration
Unidan Signature Dual Cab Conversion
Unidan Dual Cab Raised Roof Kit

Overhead Gauges
Overhead Polaris 10.1" Entertainment System

HEMA Mapping
Apple Car Play/Android Auto
AM/FM Radio

Overhead Storage
Overhead Air Conditioning Vents
Overhead Speaker Mounts

Chassis restoration
Unidan GEN 2 Fibreglass Grill
CHASSIS ACCESSORIES
Low Style Bull Bar

Front Runva 20,000lb Electric Winch
90mm LED Headlight Upgrade
2 x Blacktip Worklights

Long Range Fuel Tanks (2 x 260L)
Custom matching hydraulic tank
Custom matching petrol tank with electric pumped bowser
Triple Step Battery Boxes
Unidan Rear Winch Mount

Rear Runva 20,000lb Electric Winch
Extended Rear Chassis for easy access for winching and towing

8 x Hutchinson Rims with Michelin 395/85R20 XML Tyres

CTIS Hub Covers
TRAY ACCESSORIES
Custom Unidan 4100mm Tray

Torsion-Free Subframe
Crane Mount
Container Locks
Recessed Tie Down Points
Rope Rails
Galvanised
Gooseneck/5th Wheel Hitch

Aluminium Tray Sides
Recommissioned original MRV Hydraulic Crane with Modernised Controls and Bluetooth Remote Control
Under Tray Storage Boxes at rear and centre of tray
Spare Wheel Carrier on headboard
HORSEPOWER UPGRADES
3.5" High Flow Exhaust
Performance Turbo Re-Core Upgrade
Injector Pump Modification